Magic at the Manor
Austin gaming mogul brings the world's greatest magicians together to perform.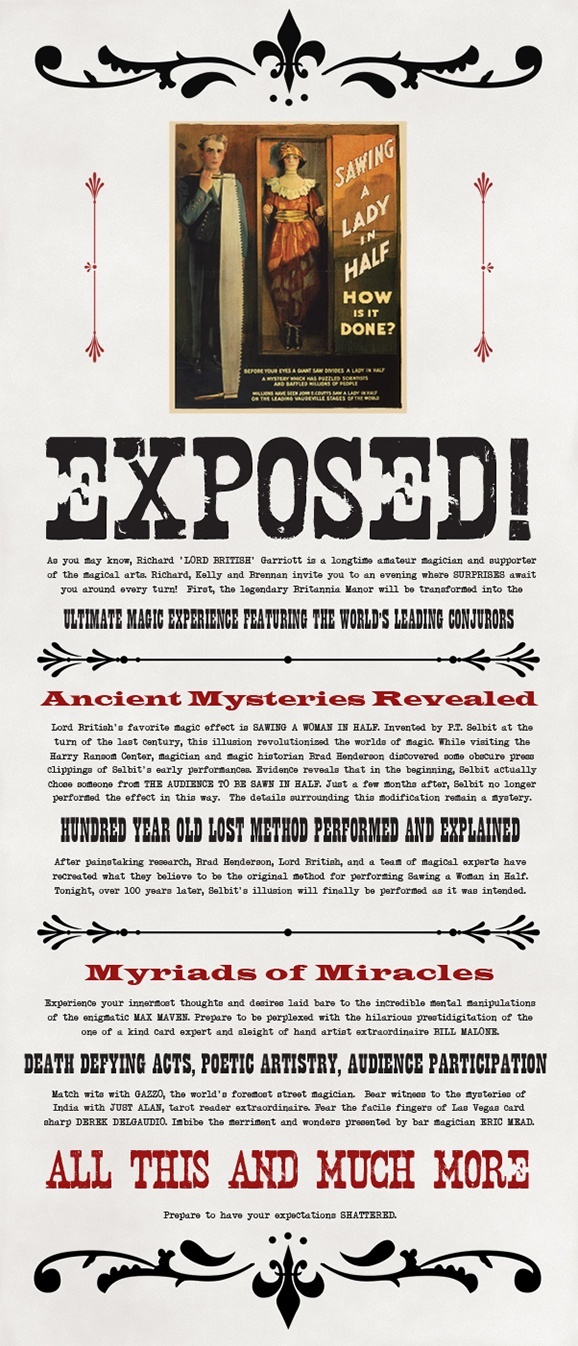 What would you do if you received a card in the mail that read, "Mangled Cats. The Man Soars. Can You Imagine?" Well, if you're a friend of Richard Garriott de Cayeux, you should start looking for clues, because you've just been invited to the magic party to end all magic parties.
The evening was billed as "Magic at the Manor," featuring performances by 18 of the world's leading magicians, but with a twist. In the party invitation, itself a cryptic message that had to be heated in an oven to display the URL where guests could find details for the event, Garriott vowed to re-create a long-forgotten method of sawing a woman in half—then reveal how the trick was done.
But during the main event, while the host stood onstage next to a box to be featured in the grand finale, a sand bag dropped and broke the box in two. Foul play was suspected, but by whom and why? As the 100 guests were led through Garriott's castle, they watched illusionists and collected hints to the identity of the lord's would-be saboteurs. Most of the audience knew magic only from television, where a camera angle or some other trickery offers a too-easy explanation and breaks the spell. No such reality would interfere here.
In the end, master of ceremonies Michael Weber, magic consultant on The Illusionist and The Prestige, pieced together the hints, deducing that the culprits were a set of twins who had performed at the party. That one twin was a petite brunette and the other a 300-pound man in drag made the outcome all the more mysterious.
The evening wound down a mere eight hours after it started, with the host pouring 100-year-old port for the stalwarts. "It's all about secrets," said a grinning Garriott. "I imbue my games and my parties with the process of discovery, with a physical manifestation of unreality." With that, he corked the bottle, tucked it under his arm, and disappeared into the crowd.